Fully touch display operation
Newsmy universal pure android CarPad 2S testing
Built in 4- Core 1.6GHz CPU,1GB DDR 3,Cortex-A9 Processor, Powerful inner core+ Android 4.4 external box. Mali 400 Graphics Accelerator.
<b>Testing detail:</b>
Because the main evaluation of this product is fully touch way, based on the basic testing standard, we will change the key test for sensitive testing of the touch display.
Our testing standard
1. Product quality, keys feel and Sensitivity. The layout of the UI design and if it is humanized shortcut.
2. Whether support FLAC APE, product sound performance.
3. Features, the performance of the product highlights and detail design.
4. Products running speed
5. Whether matches the original car, whether supports the original car information.
We have tested Newsmy pure android fully touch display universal CarPad 2S this time.it is the same as former Newsmy CarPad series. It is also "with external Android box", So can easily support Android software and hardware upgrade frequently. Built in 4- Core 1.6GHz CPU,1GB DDR 3,Cortex-A9 Processor, Mali 400 Graphics Accelerator. Powerful inner core+ Android 4.4 external box. Then make CarPad 2S smooth and intelligent. and it is the fastest android car navigation in the market.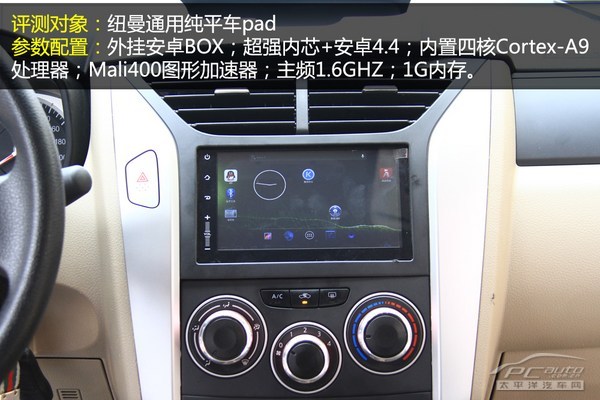 Testing model: Newsmy universal pure Android CarPad 2S
Parameter configuration: with external Android box. Powerful inner core+ Android 4.4; Built in 4- Core Cortex-A9 Processor, Mali 400 Graphics Accelerator. 1.6GHz CPU,1GB DDR 3,
I'd like to clarify here, that this new product will be released as android 4.4, but in our first assessment, using the system for android 4.2. There is only difference in the fluency between android 4.4 and android 4.2. there is no nature of change. So, despite the fact that our full text is 4.2 system, but can still be used as a reference in terms of functionality and performance, although you will buy pure android fully touch display CarPad 2S with android 4.4 system.
Details and Design of Carpad2s
Newsmy Carpad2s without physical buttons, so we are focus on details designing. Product's quality is has big effect on Brand image, because it determine clients'psychological rating,the most intuitive feeling about product's quality is the hand felling of buttons and material quality.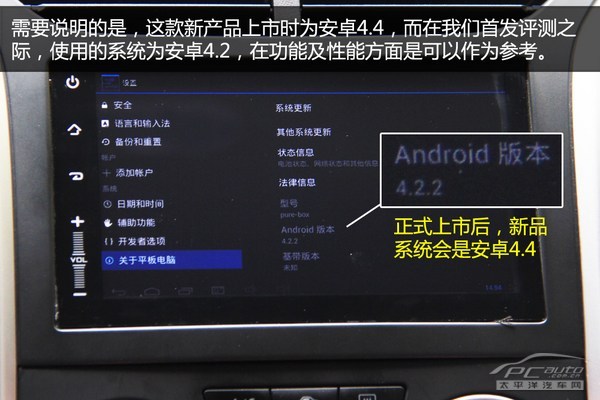 Be different with previous Carpad system, this Full-Touch Universal device without WINCE system.
Stick with Serial Number
Wiring diagram in the upside of device
Cooling system of Carpad2s: Back monolithic alloy cooling chip + Physical cooling method of Porous natural ventilation in the sides.
Exquisite Workmanship
Strength: Dual Usage of Android box
Same as previous Carpad systems, our Carpad2s with external Android box, it can be install in glove box, with dual usage both for car and for home, portable design is very convenient for clients.
Same as previous Carpad systems, our Carpad2s with external Android box, it can be install in glove box, with dual usage both for car and for home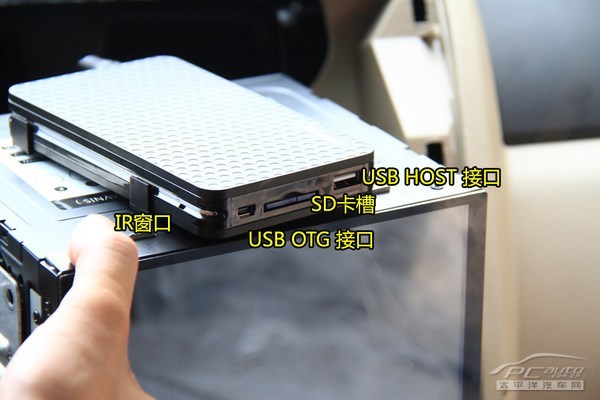 Car pad can connect
Car multimedia
TV
Mouse
Keyboard
UI and Shortcuts layout
Product UI design is very important reason for consumers choose the machine, if it meet consumers to using habits, they will feel comfortable and good. Newsmy products biggest difference from others is that it set shortcuts for "screenshot".It is a very good change for customers.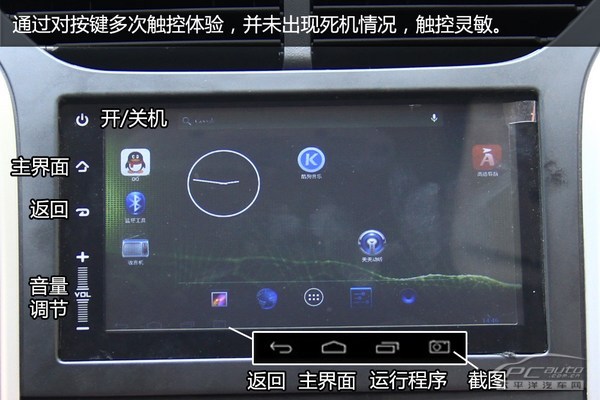 Shortcuts for Power/Menu/Back/Volume/Background App/Screenshot ect.corresponding users'operating habit,the Main menu button is on the right,easy for drivers to see them.
Like android operation,the main interface is for the commonly used software,Users can add the software themselves.
Press the button quickly,the system never crashed,touch-sensitive
Main interface
Back
Volume control
Running Apps
Screenshot
All functions need to go to the main menu,like the common android operation,the botton on the top right corner is the shortcut for android market,conveniet for users to buy apps.
● Good sound performance
Download android product is full of fun, so even a nondestructive format can be download successfully., just some formats need to pay, and storage occupation
is bigger, so it's not for most owners are widely used. Currently playing music file format is divided into two kinds of lossy compression and lossless compression. MP3, WMA, OGG known as lossy compression, the lossless compression formats have APE, FLAC, WAV, WavPack, LPAC, WMALossless, AppleLossless, TTA, Tak, TAC, La, OptimFROG, Shorten, and the common lossless compression format currently have APE, FLAC, TTA, Tak, WAV. Use different music file format, there is a lot of differences in sound quality performance.
When asked which music format can support,Newsmy answer that it can support Lossless music.
This new car pad inherited the past excellent tradition,has build-in high quality radio module,sound is very good.
But this machine has flat,so it doesn't have ports for USB,SD,AUX,it maybe inconvenient for users,we suggest customers download the music in the music software.
● Bluetooth phone function
Bluetooth phone does bring a lot of convenient, has gradually become neccessary part for owners. And how it works has become the owner evaluation of navigation is an important benchmark. Newsmy car pad bluetooth is convenient and it won't need much time to connect.
The bluetooth is passive matching,so you need to search for the machine by your phone,and use the code to connect them,it need seconds to connect successfully.
● Support SWC
For many car machine,if it can suit for the car for maximum level,it will be popular to custmers.If the wheel has bottons,our CarPad 2S can support it.
The machine's bluetooth need to be searched. Then type the code.
● support steering wheel control
If the car have steering wheel control, Newsmy pure android car pad can support the steering wheel control
●Other functions:
  The brightest highlight of this machine is the full touch .Related to the functions, there is no much differences with the car pad before. Customers can download any APP they like. The products has built-in WIFI. You can make the mobile as a wifi, and with the external android box. You can insert the 3G dongle.
With built-in wifi, can surf the internet whenever with WIFI.
Screen shot function is a icon. Customers can shot the screen for the important files. The screen shot is saved in the SD card.
Customers can download the software whatever they like.
Although this full touch universal machine is without CE syste, but the rear view is still perfect.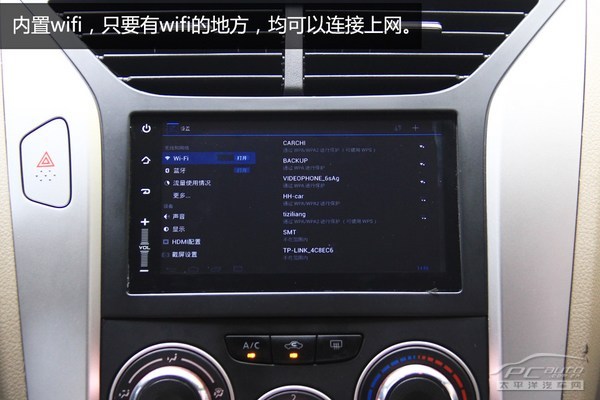 Finally:
Newsmy Car Pad, with its powerful hardware( android 4.4 system, Quad core Cortex-A9, 1.6GHZ, 1G DDR) makes the system working fast and stable. Related to the configuration, Newsmy Car Pad has much advantages. Related to the products manufacture technique and key design, Newsmy's full touch is a great innovation in the in car navigation industry. You can feel the "Pad" more. Because of the "full touch", there is no USB, SD and AUX ports.
Besides, the built-in WIFI external android box can be used no matter in car, also can be used home. And car owner can surf the internet conveniently.